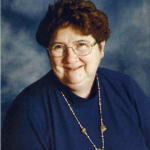 Joan FitzGerald serves as McLeod's Choir Director and Director of Family Ministry. Joan FitzGerald joined McLeod's staff in 2012, and has been a magnificent addition to our Church Family.
Joan attended Florida Southern College, and spent time in several United Methodist Churches before coming to McLeod. She is also active in the Fellowship of United Methodists in Music and Arts organization, serving as a Volunteer Chapter Coordinator. She is knowledgeable in handbell and vocal choirs, and has an appreciation for both traditional and contemporary worship music.
Since joining McLeod, she has helped grow our volunteer choir, organize and present several Cantatas, programs, and even Vacation Bible School. Joan has certainly been, and continues to be a blessing to the Worship Music and Arts area.